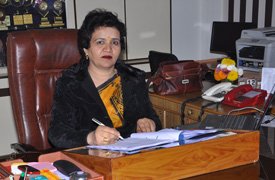 Principal(Dr.)Meenu Sharma
M.Sc.(Gold Medalist), M.Phil(Univ.Topper)
Ph.D(Maths),P.G.D.C.A.(Distinction) Recipient of 'Rashtriya Gaurav Award'
I feel delighted and privileged to share that we are stepping in this new academic year 2018-19 with so many aspirations and dreams of scaling new heights. Our college A.S. College for Women, Khanna is striving hard to make the best possible efforts for inculcating values in young buds through academic and co-academic activities. The parents have the most strengthening power in moulding the future of their children. We feel empowered with their support to domore and more. I pay my gratitude to all the parents for showing such faith in us.
Dear students, Welcome to A.S. College for Women, Khanna and institution of academic excellence and achievement, established in 1973. As we step into this new academic year, I would like to congratulate and welcome you for choosing A.S. College for Women, Khanna to be the best for pursuing higher education which has now become synonymous with excellence. It's a matter of great pride that the college has been granted 'A' grade in NAAC Accreditation in 2016. This has become possible only by grace of Almighty, blessings of well-wishers, the hardwork done by the college staff and students under the able guidance of worthy Management. With proud legacy of 45 years, the college has been excelling in every field including Academic, as well as Co-Academic activities and Sports achievements. The phenomenal achievements of our students have always added glory to the college. The college has a tradition of excelling in Sports and extracurricular activities, in which our students continue to bring us laurels at the University, Zonal, Inter-Zonal and National levels year after year. The success of A.S. College for Women, Khanna in all spheres is the combined product of all our little efforts.
We aim at "Value Based-Job Oriented Education". As students are today lacking a humanitarian approach which offers a new way of thinking about education how students can be helped to become member of global society. Reflective and inspirational attributes are encouraged through this approach. One of the major reasons behind education is to enable the young aspirants earn a livelihood. In this sphere the institution has taken a lead by providing M.A. in Hindi, Economics and Sociology, M.Sc. Mathematics, PGDCA, BCA, B.Com (Hons.), B.Sc. Fashion Designing and BA with 14 Elective Subjects. These courses aim to make the young girls self reliant.
I feel proud to acknowledge the contribution of highly qualified, dynamic and multi-talented faculty, non teaching staff and my students for this. We have to continue more ahead for producing and maintaining the best. We run various departmental societies and Committees, NCC and NSS which endeavour to enrich the academic and Co-curricular standards of our students. Our teachers work hard throughout the year with the students to provide them high quality educational experience in the form of debates, group discussions, workshops, symposia, seminars and cultural competitions. Eminent personalities are invited from all walks of life to address our students and expose them to new ideas and thoughts. I strongly believe that- " All odds, all challenges and all handicaps of life can be overcome with strong determination, persistent hard work, insurmountable patience and unshakable tenacity".

My best wishes to the new students entering A.S. College for Women, Khanna.
Dr.Meenu Sharma
Principal