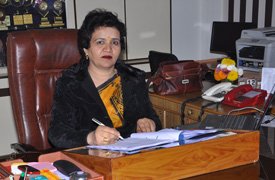 Principal(Dr.)Meenu Sharma
M.Sc.(Gold Medalist), M.Phil(Univ.Topper)
Ph.D(Maths),P.G.D.C.A.(Distinction) Recipient of 'Rashtriya Gaurav Award'
I would like to congratulate and welcome you for choosing A.S.College for Women, Khanna to be the best for pursuing higher education which has now become synonymous with all those qualities which aim at drawing the best in an individual . Our insitution is the sum total of its glorious past , a constructive present and a promising future in all the aspects of life. A.S.College for Women,Khanna since its inception in 1973,has steadily grown from strength to strength and today is recognised across Punjab and beyond for its excellence infra-structure, academics and inspiration. As you enter the campus of the college, you will be greeted by lush green lawns, fragrant flowers, well equipped labs, stadium, playground and above all, a work friendly environment.
Education does not only mean the acquisition of mere bookish knowledge. It means the development of an over all personality. It also means the inculcation of the desirable qualities like honesty, sincerity, truthfulness and obedience laced with academic skills such as a scientifically evolved thought process and a socially sensitized mind and to inculcate all these qualities amongst our students, through out the year, the college hold Competitions, Group Discussions,NSS Camps, NCC Camps, Career and Counselling lectures, Extension Lectures, Competitions, Cultural Programmes, Socities Activities and many other service oriented programmes . And no wonder a good number of our students clear their UGC - NET exams and become professionals academicians, businesswomen, outstanding sports persons, artists, painters, singers, designers, composers, journalists and what not!
Success at A.S.College for Women,Khanna does not belong to an individual. We strive to provide a congenial atomsphere to the teachers and the taught to facilitate the teaching learning process , so that we may reap a rich harvest in this fast changing world and our distinct working methodology encourges the spirit of working as a team. It is the outcome of hard work pooled by many positive brains put together!
A word of advice for my young students-

"Reach high,
For stars lie hidden in your soul.
Dream deep,
For every dream precedes the goal"

May the Supreme Lord shower His choicest blessings upon all of you to turn your dreams into reality!
Dr.Meenu Sharma
Principal